Production Facility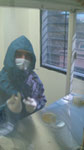 With our world class technology, we have built systems that meet the most stringent international manufacturing standards. Expert quality teams ensure that systems and processes remain in compliance with the latest standards and international markets.
This site will manufacture Pharmaceutical Products falling under following sections:

- Liquid Oral: Syrup, Suspension

- Powder Oral: - O.R.S. Powder

- External Preparation: - Lotions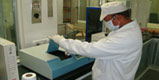 Our world class manufacturing facility is located at Sanwer Road Industrial Area,Dist. - Indore, Madhya Pradesh.India in the middle of the some of the major generic players of the world. The facility has dedicated manufacturing modules for Liquid Section, Vetenary Section, External Section, Powder Section and caters to international and domestic markets. The plant is well connected to AIR and RAILWAYS and has a plot area of about 10000 sq mts.
We are well equipped to manufacture the following product categories at our plant:

- Anti Malarias

- Antibiotics

- Anti Inflammatory

- Analgesics

- Antiemetic

- Antacids

- Oral Rehydration Salts I.P./B.P.